Consulate-General of Japan in San Francisco visits Matsuyama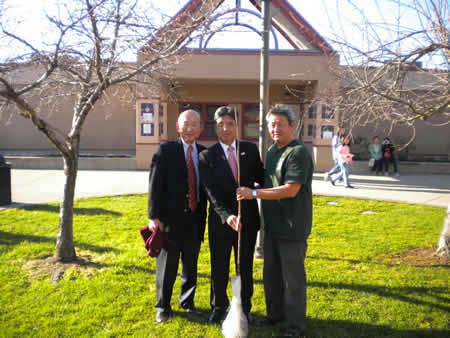 On March 9, 2012, Consul General Hiroshi Inomata participated in the Sacramento Matsuyama Elementary School Cherry Blossom Festival. Many people turned out for the event, including students, parents, school staff, as well as the local community.
As a part of the US-Japan Cherry Blossom Centennial Project, Consul General Inomata presented a commemorative cherry tree to Mr. Norm Tanaka, Principal of Matsuyama Elementary School. Consul General Inomata joined President Ralph Sugimoto of Matsuyama Sacramento Sister City Corporation and other participants in expressing hope that the Sacramento Matsuyama sister city relationship and sister school relationship between Matsuyama Elementary School and Sakura Elementary School would continue to blossom.
The cities established their sister city relationship in 1981. In 2001, in celebration of the 20th anniversary, they started a school exchange program and in 2003 these schools announced their sister school relationship.